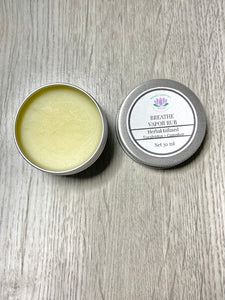 Discover A Holistic & Natural Approach To Feeding Your Mind, Body & Soul!
 All Products Made With Purpose & Care
Breathe Vapor Rub formulated to give your immune system a helping hand to naturally fight cold and flu symptoms.
This plant magic Vapor Rub consist of a double herbal infusion with 6 powerful herbs including GARLIC, ECHINACEA and CAMPHOR that are clinically known to relieve congestion, soothe sore throat and ease muscle aches and pain.
Safe, Effective and Free of Toxic & Harmful ingredients.    
DIRECTIONS: Massage a dime size amount to chest, back, throat, and under feet.
SIZE: 1 oz / 30 ml
INGREDIENTS : Olive oil, Organic coconut oil, soy wax, eucalyptus, oregano, clove, garlic, camphor and spearmint.