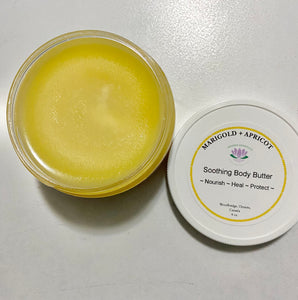 Discover A Holistic & Natural Approach To Feeding Your Mind, Body & Soul!
 All Products Made With Purpose & Care
Marigold + Apricot Soothing Body Butter is an all natural moisturizer that is loaded with vitamin A, C and E to help nourish, heal and protect sensitive skin. This gentle and effective formula is also safe for babies skin.
Our fragrance free non greasy Organic Plant-based formula provides healing of wounds, soothes itchy dry skin, eczema, diaper rash,  other skin irritations and stretch marks.   
DIRECTIONS
- Simply apply to the skin when necessary. 
INGREDIENTS : Organic shea butter, organic mango butter, organic coconut oil, Rosehip oil, Apricot oil, arrow root powder, vitamin E and herbal infusions