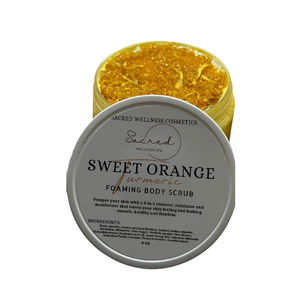 WHAT IS IT:
3 - 1 foaming body scrub that pampers your skin, leaving it smooth, healthy, and flawless. 
WHAT IT DOES:
Ditch the multiple-step routine and enjoy the luxury of using the foaming body scrub that exfoliates, cleanses and moisturises all in one. 
HOW TO USE IT:
Apply a generous amount onto damp skin and exfoliate the skin in a circular motion. Rinse off the product well. Can be used 2 - 3 times a week.

It's suitable for use on the body only and is not recommended for use on your face. 
*best paired with the Sacred Wellness Luxury Body Oil 
SIZE: 
4 oz container 
INCLUDES:
bamboo spoon 
 INGREDIENTS 
Water, glycerin, Coconut oil (Cocos Nucifera), Sorbitol, Sodium Chloride, Saccharum officinarum (Cane Sugar), Vitellaria paradox (Shea Butter), Helianthus annuus (Sunflower seed oil), Sweet Orange EOS, Calendula Officinalis (Calendula Petals), Curcuma (Turmeric Powder), Leucidal Liquid